The Master Locksmith
445 W. Washington Street
Sequim, WA 98382
"Experience Makes the Difference"
As discussed in my previous article, there have been numerous lists over the years of how to go about making your home less 'attractive' to criminals. Often times you can contact your local law enforcement agency and/or locksmith and they will do a free walk through to help you figure out how to make your home more secure.
Here are some ways you can do it yourself;
View your home through the eye of someone looking to break in. What would YOU look for? These are the same things that others look for.
1.) Is your home lite up at night? Are all the light bulbs outside working? If not replace them as soon as you notice they aren't. Consider adding motion detector lights; just remember these will also pick up small animal movements as well.
2.) Is the area beneath your windows clear? Are there places that someone can hide and/or be hidden from view? Clear these out so that these areas are visible.
3.) Do you have locks on your windows and do you use them? When you open your windows, do you remember to close them and secure them? If you want to leave your windows slightly open, then consider getting a lock to put on the window to only allow it to be opened a certain amount. Remember if you aren't there, you don't want anyone reaching their arms through the window to grab anything.
4.) Do you have sliding glass doors? Do they have locks on them? Unless this is a daily entrance, then have a charlie bar or some other type of locking mechanism that will not allow entrance when you are not there or have locked up for the night beyond your keyed lock (if you have one at all).
5.) There is a statistic out there that states that 80% of the time when someone breaks into your home and robs you, it is someone you know. So you aren't just protecting yourself from some unknown person. Don't show your friends where you keep the spare key; unless you trust them with your things and your life.
6.) Don't keep a spare key in an easy to spot location; we all know them as we see them in the movies! (a) above the door (b) under the mat (c) in the planter next to the door. Just think about where you have seen them put in the movies and don't put them there. The less obvious, the better to find.
7.) Keep the spare where you will remember it. This is one of the biggest problems we come across. "I've hidden my key and don't remember where I put it."
8.) Don't give your key out to ALL your neighbors. You don't know where they will keep it for "safe" keeping and who will have access to it. If you do give it to your neighbor, make sure that they don't put YOUR address on the key. If you have a key tag mark it with something you know that identifies what it goes to without advertising it to everyone else.
9.) The more urban the area, the more likely you are to need a home security system. If you live in the city, and can afford it, you should invest in a security system. The bigger the city, the more its worth investing. Even in more rural locations, more people are adding these in.
10.) Deadbolts. Make sure you have deadbolts on all your doors where possible. If you have glass on the door, make sure you use double cylinder deadbolts. Never leave the key in the lock when you are leaving on vacation.
There are two lines of thought on double cylinder deadbolts (these are locks that require a key on both sides.) The first is that they are a safety hazard. If there is a fire or emergency and you don't have the key you will be locked in your home. The second is that insurance agents want you to have them as they protect your home. If your house gets broken into, and they can reach in and turn the lock it makes it quicker and less noisy for the person breaking in.
Weigh both these things when making a decision regarding your home and your safety. You have to know where the key is as you don't want to leave it in the door while you are sleeping unless you are a light sleeper and will hear the glass break. You don't want to leave it within arms reach of someone who may break the glass. You do want it where you can get to it if you need to leave your house quickly for any reason. Consider your 'escape' options. Are there other doors that you can go out, etc.
As always research other articles regarding home safety so you can make an educated decision about your home and your security.
Contact Us About Your Project TODAY!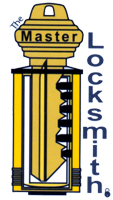 The Master Locksmith
located at
445 W. Washington St.
Sequim, WA 98382
Serving the Communities of the
North Olympic Peninsula
in Washington State:
Sequim
Carlsborg
Port Angeles
Port Townsend
and surrounding communities