The Master Locksmith
445 W. Washington Street
Sequim, WA 98382
"Experience Makes the Difference"
What do you do when you have a product that is "no longer made" or "no longer produced". Unfortunately, there are very few options.
Option One: You can contact your local locksmith and see if they might have the part you need. Locksmiths try to keep parts that aren't made any longer, when they can, however like anything else; once its gone its gone.
Option Two: Go to a surplus store; an antique shop or even your local serenity house to see if they "might" have something that will match.
(Note: Both the first couple of options will probably cost you more than if when the product was 'new'. You get what you paid for.)
Option Three: Replace with something "new". Even though a product is discontinued, other items will be made that are a 'near' the same type of lock you might have had. Colors may vary; due to use, technologies that product the colors and the "batch" that they were made in. Some locks were 'copper colored' and they may no longer be available, so you will have to find one that is close enough for you to accept of replace the entire thing.
Option Four: The internet. You may find what you are looking for online/
We recently had a customer who purchased a Weslock imperial knob in antique brass. He had the same "style" of knob on his home, that failed, and it was antique brass. His first complaint, was the price. (This is not an item we stock, for several reason, so it was a special order item.) His next complaint was the color; "it wasn't the same" and his final complaint was "it didn't fit his door". He needed a drive in latch, not a standard latch.
The bottom line is: there was no satisfying this particular customer as the replacement was more money than he wanted to pay for a product that isn't carried anywhere in our small town. Unfortunately, we are limited as to what we can do when we work with our customers when the products aren't made. Even when you explain the problem they may run into, such as the colors not being quite "right", some times no matter what you say there will be problems.
It is difficult to fix something that is out of your control. We do our best to meet the needs of our customers. However, products that are no longer made, all we can do is explain what may happen and best prepare our customers for that. So, if you have an older lock, know that the replacement may not be available.
Contact Us About Your Project TODAY!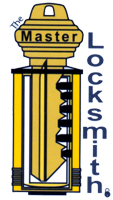 The Master Locksmith
located at
445 W. Washington St.
Sequim, WA 98382
Serving the Communities of the
North Olympic Peninsula
in Washington State:
Sequim
Carlsborg
Port Angeles
Port Townsend
and surrounding communities