The Master Locksmith
445 W. Washington Street
Sequim, WA 98382
"Experience Makes the Difference"
Locksmithing; A trade, not a hobby [Part 2]
---
I remember the first time I discovered that when I moved into a house, I didn't have to keep the same keys that were handed to me. Not only that, but I also could have just one key to my home. Now, this may make some people laugh – it does me when I think back on it, but the truth is; I am not the only one who doesn't know.
Like a lot of industry, the locksmith trade is seen as a male dominated industry. True, that the majority of locksmiths are men. Its also true, that a lot of women have been treated poorly in a lot of male dominated industries. (I am not starting a political debate to the merits of chauvinism in our country and how things have changed here.) As a woman, we learn about things that can be conceived of as "light". As times have changed, women have delved more into deeping their knowledge in a lot of different things. Most of the time, we learn about automotive things from our husbands or fathers, and up to a certain point it is these same men who take care of these needs.
As times have changed, divorce has become prevalent or the death of a spouse or any other factor that forces a woman to have to explore options to take care of things. Locksmiths are not what pop in our heads. However, after being in the industry and understanding the nature of it, I would not go anywhere else BUT a locksmith to get keys made or my door hardware worked on. I know how much training it can take.
One of our locksmiths went to help a woman, after hours, into her car. After he let her into her vehicle, she said to him, "well I could have done that." So he asked her why she hadn't. Her reply, "I didn't know how." That is the perception of our job. 'I can do that'.
Sure you can and with a lot of hardware stores selling 'rekey' kits and such, a lot of people are doing or attempting to do, just that. When a rekey kit runs out of pins, they will come to a locksmith and ask to have some more sold to them. Our response is "no". We work hard to do our job and with that comes the ability to get the equipment and parts needed. The training. As a matter of fact, state legislation in Washington makes it illegal for anyone to own locksmith tools who aren't locksmiths. (Oddly enough, it isn't illegal to sell 'slim jims' just to own them.) Of course, that doesn't stop individuals from purchasing them. From using a slim jim on a new car – when they have no clue that the break away foot is going to come undone and they won't be able to lock the car anymore. That it is going to cost them more in repairs than it would have to have a professional locksmith come out to do it.
In our area we charge a flat rate for lock outs. We know that most of the time, when we get out there, we will have our customer in their car with in a matter of minutes. We have the training. We have the right tools. We have seen people call tow truck companies to come let them in their cars, and have to wait hours to get in.
Here is a tip: If you have full coverage insurance or you have a roadside assistance, and you call a locksmith to come out (no matter the company) you can pay the locksmith and then turn in the receipt to your towing company or your insurance agent and you will be re-reimbursed. You will also be in your vehicle in less time. Call that locksmith you have made it a point to get to know to come out and help you.
Locksmith rates vary from state to state, but we do have standards. We are in a trade industry, which means we do keep in touch with the other locksmiths in the area and in the nation so we know what is being charged.
There are trade shows that locksmiths go to that not only teach us the new products that are coming out, but also offer training classes so that we can keep up with industry standards. There are some companies who won't even allow you to sell their products without you taking a training course.
Locksmiths are trained individuals with hands on knowledge and experience to help resolve or solve your lock problems. Whether its a residential, commercial or vehicle lock or key, I urge you to see your local locksmith first and find out how they can help you. If you feel that they are quoting high, call around and get price quotes. Just remember that your community locksmith is a highly trained individual.
Contact Us About Your Project TODAY!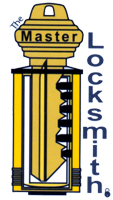 The Master Locksmith
located at
445 W. Washington St.
Sequim, WA 98382
Serving the Communities of the
North Olympic Peninsula
in Washington State:
Sequim
Carlsborg
Port Angeles
Port Townsend
and surrounding communities