The Master Locksmith
445 W. Washington Street
Sequim, WA 98382
"Experience Makes the Difference"
Locksmithing; A trade, not a hobby [Part 1]
---
One of the biggest problems that I have noticed when it comes to being in the locksmith industry is the lack of recognition from our customers that this industry is a trade. It requires training, with a side of more training to keep up with what is going on. However, most people seem to view it as if all locksmiths are individuals who have 'retired' and are now doing the 'hobby' of being a locksmith.
Prior to my being a part of the locksmith industry, I was one of "those"; who simply thought that a locksmith was a person who 'made keys.' I became involved with the industry in 1995 and over the past 15 years, I have become more intimately involved with the intrinsic value that is involved in this trade. I was one of those who had no knowledge of what a locksmith is and therefore the value of the service was deemed, not so much.
However, I have now become very active in trying to help educate our community as to the complexity of what a locksmith really is; the training and education that goes into being a good locksmith; the values of the person who is doing the work and what it is worth. Most people won't have a second thought about calling a plumber to come help them out and paying their hourly rates; they will when it comes to a locksmith.
On top of this, most locksmiths are now having to fight to 'prove their value' due to the number of con-artists who have appeared with their 800 numbers and their 'bait and switch' methods of quoting unsuspecting 'marks'. This has had a ripple effect on our industry. Such as locksmith's who have been in the industry for years, which have high standards and charge competitive rates being seen as 'over charging'. Many states legislatures are coming up with new laws that will adversely affect the industry and those who are honest while not helping to curb the problems that already exist.
You may have heard; locks only keep honest people honest. This applies to laws that are too broad or miss-aimed at our industry that will make it harder for a locksmith to do his job while still allowing the fly-by-night companies who are ripping people off to continue. Ask any locksmith, and they will tell you that they are more than willing to help legislatures to make laws that will help keep standards in the industry while helping to prevent fly-by-night locksmiths' frauds.
The problem is not just the use of 800 numbers; it also resides in these fraudulent companies using abandoned buildings as their 'physical' addresses. How do you combat that problem?
Preventive measures;
Before you need a locksmith, find one. In your home community, find a local locksmith. Ask questions: How long have they been in business? How long have they been in their current location? Are they a mobile service? Are they part of the local chamber of commerce? Ask for referrals. Ask friends and family who they would recommend. Then if you are locked out or in need of a locksmith, you have the number and the peace of mind to know you are using a quality locksmith.
When you are on a trip, finding a locksmith can be a bit harder, especially if you are out in the middle of nowhere and it's the middle of the night. So, if you are in the process of planning a trip, add one more item to the list. Find a local locksmith(s) in the place(s) you are going. Ask your local locksmith if they can refer someone in the area you are going. Have the number with you when you travel, put it someplace that you have readily available or just remember the names of the locksmith.
Avoid using 800 numbers when possible. Local locksmiths have local numbers. (Unfortunately some of these con companies are also starting to get local numbers.) Some may have 800 numbers as well, but very few that I know of do. Plus, it may cost a few extra cents to contact them – but peace of mind is well worth it.
Check the yellow pages. Don't look at the line listings, look at the ads. A lot of times line listings are free so fly-by-night companies will use them.
Ask for the name of the person who is coming out to help you and what they will be driving before you get off the phone. Locksmiths know who they employ.
I don't want to say avoid mobile locksmiths, but I do want to note that a lot of these con-companies are mobile only. So get a chance to know the locksmith in your town that services your area before you need one. (There is a good chance that your local locksmith may be a mobile only service – but if you know him before you need him, then you won't have to worry.) When you are out of town, don't use a mobile only service unless there is no other choice.
Also in larger cities, there are a lot of mobile services. If you get to know a locksmith in your area that you are comfortable with, then use them. These are just a few suggestions.
Contact Us About Your Project TODAY!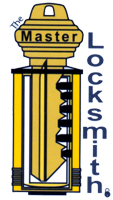 The Master Locksmith
located at
445 W. Washington St.
Sequim, WA 98382
Serving the Communities of the
North Olympic Peninsula
in Washington State:
Sequim
Carlsborg
Port Angeles
Port Townsend
and surrounding communities