The Master Locksmith
445 W. Washington Street
Sequim, WA 98382
"Experience Makes the Difference"
I need my locks master keyed…
---
We often get calls from customers stating that they want their house master keyed. What they mean is that they just want a new key to fit the locks – thus "master" key. However, in our industry that term can cause some confusion, as the term master key implies a multi level keyed system.
Most often master key systems are used in the commercial industry; for buildings, hotels, some rental properties. Very rarely are they used in residential homes; though some times this does occur, just not often. A master key system is one that uses several different levels of keys; the grand master fits everything, then another key might only work the bathrooms and another one the offices. Hence, calling a locksmith and asking to have your house master keyed might cause a small amount of initial confusions until we figure out what you are after.
The hard part is trying to diagnose what the customer wants when they are using what they believe is the proper terminology.
So, if you need multiple keys for your house; as an example, you only want the pet sitter to be able to open one door – and not have access to the rest of your rooms, you can have that lock master keyed. So your key will fit everything but the key you give out will only fit that one lock; in the future if you decide not to use their service, you can have that one lock(s) re-keyed and not your entire house.
If you want a new key to fit your door and the old keys to no longer work, then you don't' need to replace your door hardware, you simply need the locks re-keyed. We let our customers know that unless there is a problem with their hardware or they are looking to change the design, then the best and least expensive method to accomplish their goals is to re-key their locks.
Contact Us About Your Project TODAY!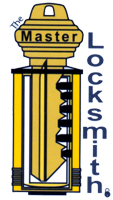 The Master Locksmith
located at
445 W. Washington St.
Sequim, WA 98382
Serving the Communities of the
North Olympic Peninsula
in Washington State:
Sequim
Carlsborg
Port Angeles
Port Townsend
and surrounding communities