The Master Locksmith
445 W. Washington Street
Sequim, WA 98382
"Experience Makes the Difference"
Key Control and You [Part 2 – Commercial]
---
Commercial Key Control
While residential key control can be handled by not giving out your keys or replacing a lock, commercial key control is a different beast all together.
First commercial customers often times need MORE control due to having more offices, properties, etc. Most business attack this problem by using a master key system. For those not in the 'know', a master key system is one that gives the owner, president, all around chief bottle washer, control of everything while reducing the number of keys that they carry and give out.
Master keying allows you to have one key that works absolutely everything, if you so choose, yet allows you to give out additional keys that limit what an employee or independent contractor can get into.
Losing a master key can end up being an extensive endeavor – if you don't know where your keys are or if they can be easily made at any hardware store – you can lose control; this may cause you to re-master-key in order to regain control of your system. Of course, by limiting what areas an employee can go into via their key; you may only have to master key a few doors as opposed to everything.
Commercial companies also have the option of having more expensive systems; doors that have keypad access so keys aren't given out (such as Simplex locks) which are used by a lot of government facilities. Smaller companies can add one onto a door to allow entrance without giving out keys; depending on the number of user codes you need to give out, will depend on which type you need.
(Arrow makes one that can have as few as 25 users on up, while Code Lock can handle thousands – just to name a few brands for quick reference [though neither of these may work for your needs and another brand might be a better fit.])
There are also key-less systems that use a proximity card; you assign who can come in and when they are allowed in via the use of computer software. There are also keys that can create audit trails to allow you to know who had access and when. (Such as products offered by Secur-a-key) There are a Lot of options all dependent on how much money you are willing to spend.
The ideal thing for commercial companies is to move away from standard residential key ways and toward more commercial key ways (such as BEST IC Cores) or other signature key systems. The reason behind this is simple; the more available the key is the more likely any not-so-honest employees can make a copy of it unbeknownst to you. While some companies may not care if an employee makes a copy; you might when they are let go. Unfortunately in today's society we find that more people feel it is 'okay' to be destructive when they are angry. [Anyone who has had rentals probablly understands this.]
So what is important to know? First, your master key chart BELONGS to your company. You should always have access to these records for the security of your company and peace of mind. Unless you are certain that the company you are dealing with isn't going to go out of business anytime soon, you should have a copy of these records locked away for safe keeping. Or if you have a security company who has integrity, if they know they are going out of business or will no longer be doing this type of work, they will make sure you get these records. If you hear a rumor that the company you are dealing with "might" be going under, then get copies of your records.
Why? We have had numerous companies in our area who no longer have access to their records. The locksmith business they dealt with was bought out by individuals who didn't know or fully understand the industry. They, unfortunately, went under. Rather than making sure that their customers had these records they disappeared along with the records.
Where does this put you as a customer? Starting from scratch. The problem with not having a master key chart accessible is that you either have to redo everything or you end up with what we call a broken system. In other words, a security specialist may be able to add in another key to your system, however, it could end up working more locks than you want it to, simply because the locksmith doing the work has no clue what keys have been previously issued; due to not having all the information on the system and what was issued. Locksmith's can 'recreate' systems if they have all the keys that were issued but this can be a lengthy process not including you having to supply all the keys. Even then it will probably not be an exact replica.
So what is the best way to manage your keys?
1.) First, keep a record of what keys were given out and to whom they were given. An excel spreadsheet can work great for this purpose. You can even create a sheet that you have the employee sign when you first give out the key.
2.) Limit the ability of key duplication without your authorization by using a key way that is not readily available via hardware stores, big chain stores, etc. Such as a signature system like MX or Medeco. (There are quite a few of these types of systems out there; where a locksmith buys into the system and no one else in the area has access to that particular keyway.)
3.) Develop a relationship with a security expert, aka locksmith in your area, let them know what your needs are and ask them the best way to approach the problem. Depending on how vast of a system you need, you can get cabinets, drawers and even padlocks keyed into your system for security and key control.
4.) Figure out what your budget will allow and if you can't afford to get everything done at one time, then see if you can piece meal the project. Do the most important areas first. A good key system can grow along with your needs.
5.) Make sure the person you are working with is someone you feel you can trust. (We work in the security industry, it is in our best interest to make sure you feel secure with your system, if you don't feel that way with the person or people you are working with, find someone else.)
Once you figure out your needs and budget, you can sit down and work out the system. If you are using a keyed system, you will create a chart that shows which keys will fit which doors. This will be gone over with your locksmith who will turn it into a master key chart; it may be discussed several times before finalization prior to cutting of keys and scheduling of the actual work. (You may also choose to just bring in the locks that you want keyed or if you are purchasing new hardware, you can have the locks master keyed prior to being installed. If you need to save money, you can install the hardware yourself. Remember commercial hardware has different specs than residential hardware.)
If you are going to be using a key-less system, then you will want to do a walk through with your locksmith or create a floor-plan that shows where the doors and various other things are that you want to have keyed; then sit down with your locksmith to go over everything to make sure you haven't missed something and all the information that is needed to convert to this system is ready.
Contact Us About Your Project TODAY!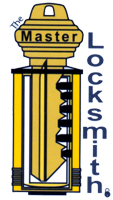 The Master Locksmith
located at
445 W. Washington St.
Sequim, WA 98382
Serving the Communities of the
North Olympic Peninsula
in Washington State:
Sequim
Carlsborg
Port Angeles
Port Townsend
and surrounding communities