The Master Locksmith
445 W. Washington Street
Sequim, WA 98382
"Experience Makes the Difference"
Commercial Properties/Residential Locks
---
The past week we had a customer come in who brought in a group of residential locks and wanted them master-keyed for an apartment complex. The problem was that due to the limitations of the lock, it would require a special work around master key system; in other words you are limited to where you can put master pins in the cylinder. Because the top part of the lock (the bible) is not solid [like they used to be and a lock of locks still are) they are springs with a cap on them – it allows for the possibility of the small master pins to pop up and catch in the cylinder. Which 'could' cause problems in the future.
Now, these locks have been master-keyed by another locksmith in the past. No charts were given to the customer but they still wanted to use their master key. While this can be done, it can also cause another problem "ghosting"; which is the possibility of the key fitting in a different lock than it is suppose to fit. However, in this case the customer wasn't concerned with that issue. As they don't have the locks re-keyed when someone moves from the apartment, instead they simply move the locks to a different door.
Further, after we explained the situation to the customer, they called the company who manufactured the locks and were told that we (our company) are wrong and we are unethical and the customer should go somewhere else. (Now I am purposely not giving names of companies here, yet.) So the customer came back in and let us know that they were told we were unethical and that they should take their locks somewhere else. So I handed them their locks, and told them where they can find another locksmith.
Now, I could have 'fought' for our reputation by trying to argue the point with the customer. However, there are times when you can look at a person and know that no matter what you say they will not change their minds. It is at times like these that we make a choice. Be polite and help out even though they have verbally attacked you or you can get upset. I admit that the comments made did upset me, because I know they are wrong, and when I thought about it later I realized that they are not someone I would want to do business with anyway; as if this small situation is any indication then their business would be a lot of head ache down the road.
Customers who realize what your work is worth; and customers who have done business with you in the past and continue to do business with you because of your integrity – are the ones that I am more interested in keeping. Rather than a customer who thinks that we are out to somehow "rip them off" before ever having done business with us, are better off using someone they can trust. In our industry, it is difficult enough to help customers find value for their dollar as so many people don't realize what goes into being a professional locksmith.
Contact Us About Your Project TODAY!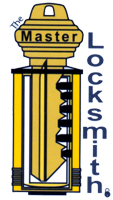 The Master Locksmith
located at
445 W. Washington St.
Sequim, WA 98382
Serving the Communities of the
North Olympic Peninsula
in Washington State:
Sequim
Carlsborg
Port Angeles
Port Townsend
and surrounding communities